MARINE PRODUCTS:
Boat Handling Jacks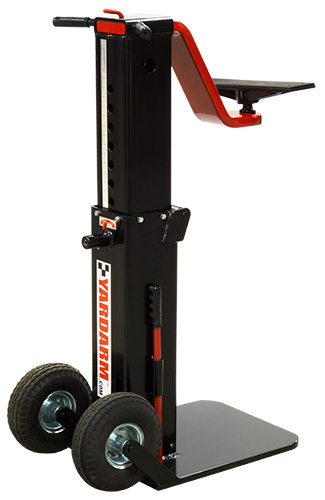 Set Of 4 Includes:
4- Jacks
4- Straight Arms
4- 10" Drop Arms
4- 4" x 18" Contact Pad
Part Numbers:
Full Set (4 Jacks): 10-YARDARM
Half Set (2 Jacks): 10B-YARDARM
Single (1 Jack) 10A-YARDARM
Key Benefits:
Work station for bottom repair and cleaning
Trailer rolls in or out past jacks, allowing you to take boats on or off trailers easily
Jacks have a safety lock allowing boats to be left on jacks indefinitely
Jacks can be used on dirt, gravel, black top or cement
Jacks can be used anywhere: shop, yard, showroom
Lifts boats up to 40,000 lbs. (with 4 jacks)
10 minute boat placement
20" vertical lift (50.8 cm)
Lifts big boats right off the transport truck
Allows fast and easy trailer to trailer exchange
Expedite boat show setup. No waiting for a crane
Powder Coat Tough Finish
Works down to -25°F
Specifications:
Capacity Each Jack
10,000 lbs
19" Height
Straight Arm (Part # 15)
1st Pin Hole
8,000 lbs (per set of 4)
33"-52"
2nd Pin Hole
16,000 lbs (per set of 4)
33"-52"
3rd Pin Hole
24,000 lbs (per set of 4)
33"-52"
4th Pin Hole
40,000 lbs (per set of 4)
33"-52"
Drop Arms
10" Drop (Part # 12)
10,000 lbs (per set of 4)
23.5"-42.5"
15" Drop (Part # 13)
10,000 lbs (per set of 4)
18.5"-37.5"
20" Drop (Part # 14)
10,000 lbs (per set of 4)
12.5"-31.5"
Big Boat Pads (Contact Pads)
Part # 019
For Boats over 15,000 Lbs.
Shipping Weight Per Set
1425 Lbs.
Bass Boats / Wide Trailers:
Yardarm Boat Handling Jacks should not be used to lift bass boats or other types of boats where the trailer is wider than the boat. There may not be enough clearance to remove the trailer once the boat is raised. Our jacks feature 12" clearance from the face of the jack to the center of the lifting pads (all arm options).
Manual
Boat Handling Jacks Manual